Why go to University?
If I think back of my 18-year old self, the main reasons why I enrolled in university were that (1) all my friends did it, (2) my parents expected me to do so and (3) being a university student just seemed incredibly cool and exciting to me. On the contra side there was things like the opportunity costs of not being able to work (full-time) for at least 3 years, the mental strain of hours spent staring at super boring books as well as dorm rent and living costs (we don't have tuition fees in Austria). Although I definitely did not approach this in such a structured way back then and it is very hard to quantify any of these arguments, you could view this decision as some kind of a mental accounting game: Take all the expected benefits you get from university and subtract all the costs and downsides. If the result is positive and your life circumstances (aka. financial/family situation) allow for it, go to university. If the result is negative, don't. Let's take a closer look at the reasons pro university. Despite them being certainly numerous and highly disparate, I think the vast majority ultimately boils down to a mixture of three values that are generally provided by a university education.1 Or in fact almost any kind of education.2
The people & the network: The bonds students form by getting wasted on parties together and carrying each other through exam periods, the connections students make with professors and the socialization process they embark on through these interactions.3
The credential: The signal of being accepted by (& having graduated from) institution X
The knowledge & the skills: What's most often named as the purpose of universities - making students more knowledgeable and preparing them to meet the demands of the job market or a scientific career.4
Changing Forces
I believe currently we are in the middle of a process that shifts more and more weight away from the knowledge pillar to credential & people. Simply, because access to high quality educational resources is becoming easier and cheaper (e.g. think of all the public lectures that you can watch on Youtube from schools like Yale, Harvard or MIT). The following covers some hypotheses about potential implications of this shift for U.S. higher education.5
(1) Prestigious schools will remain powerful, mediocre colleges will have troubles
Due to the pandemic many high profile colleges in the U.S. have freed potential students of the requirement of submitting a SAT score with their application. This led to an unprecedented surge in the number of applications to Ivy League and similar selective colleges this year as can be seen in this line chart.6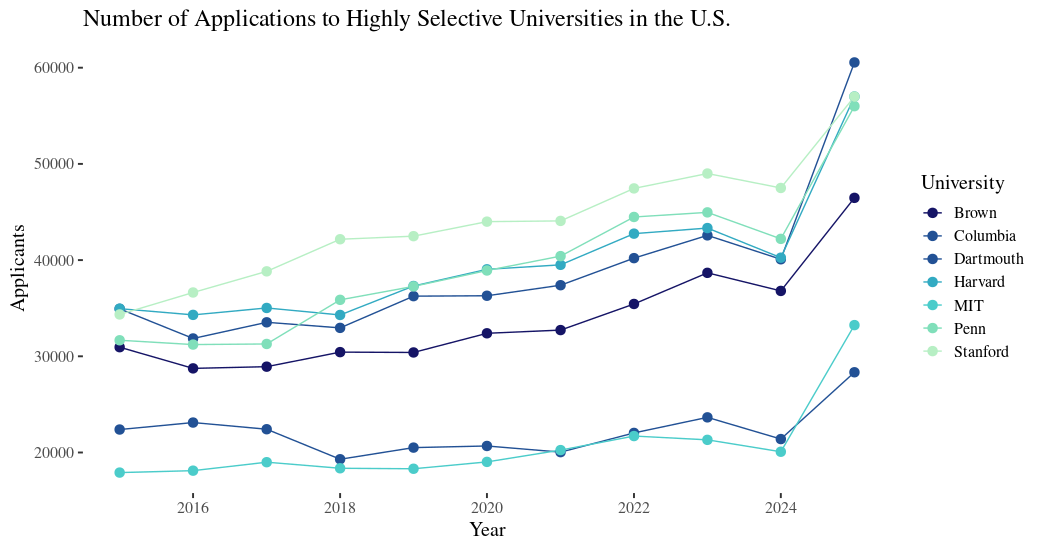 On the other hand many less prestigious schools have seen a major drop in applications this year and are struggling to hit their enrollment targets.7 All of this is certainly very much intertwined with COVID-19, nevertheless, I would argue that the underlying reason is in fact that the attractiveness of non-prestigious schools is much more dependent on the knowledge and skills aspect, which is now loosing importance. I mean, why go to a no-name university for ruffly $45,000 a year when you can get all the knowledge online for a much lower price? Some anecdotal evidence to back up my thoughts - brought to you by Megan O'Connor from Chegg (an American online education technology company)…
The top 50 [universities] will continue to hold their market share but everybody in the middle who is like an expensive school that is probably high quality but doesn't have this extensive, strong connection towards employment post graduation, those are gonna kind of fall by the wayside for sure.8
…and Austen Allred, founder of Lambda School (a coding school that only charges graduates once they have a job).
Look, I've never met someone that regrets going to Stanford. Unless they could have dropped out and started Facebook or something like that, you're gonna be okay if you're in the top 50 universities. You're not going to end up with debt that you can't ever crawl out of ever again. 9
Preliminary conclusions:
If you are aiming to disrupt traditional education, you don't need to fight a battle against Ivy League schools there are plenty of expensive but rather inefficient schools out there which currently do have a significant market share.
There is a huge opportunity in providing networks and facilitating communities outside of education as again also highlighted by Megan O'Connor:

And as we are unbundling the university we are also sort of unbundling their [the students] ability to have a network. (…) I think what we are going to see happen (…) is this sort of new network, maybe its a membership community, maybe its a areas of interest community, but there is going to be a different way that college age students socialise and create alliances within each other, so that they can work and flourish in the actual working world together. That's a piece where there is still lots of opportunity to build right there, right now.

Education is turning into a curation business. Much of it's value can be replicated by curating a bunch of smart people, putting them in a room (after vaccinating them) and instructing them to do an open source online course together.
(2) Extra effort is needed to make sure children from low income backgrounds don't fall behind even further
When it comes to the importance of network and the socialisation process that students go through, this is very much in line with the cultural capital theory of french sociologist Pierre Bourdieu. Admittedly, I don't fully understand all of his statements and his original writing certainly was a part of those boring books I had to stare at throughout my university education, but what resonates with me and also makes intuitive sense in my brain is his view of schooling as a motor for (re-)producing elites:
… schooling operated to sort and sift children and young people into various educational trajectories – employment, training and further education, and various kinds of universities. The practices of differentiation included antidemocratic pedagogies, taken-for-granted use of elite discourse and knowledges, and a differentiated system of selection and training of teachers. Education was, he suggested, a field which reproduced itself more than others, and those agents who occupied dominant positions were deeply imbued with its practices and discourses. 10
My conclusion from this is, that those students from low-income backgrounds (aka. with less cultural capital) have disproportionally benefit from the socialisation process that happens at university aka. the habits\norms\thinking frameworks they get accustomed to through their higher education (i.e. it allows them to catch up on cultural capital) because it later on enables them to thrive in a world that plays by the rules of the priviledged. This component of the people & network pillar shouldn't be underestimated and should be given space in new forms of education. Turning this meta-level theory thinking into something more concrete, here a quote again from the founder of Lambda School:
That's one of the really weird things: The hiring process is not just a filter for skills, it's also a filter for class. And people don't talk about or acknowledge that. It's very clear in all these protocols that we have in tech that you and I understand, you have to learn them the hard way. I'll give you a couple of examples. (…) Another classic example is intros, right? Or using Google Calendar. I didn't know how to use Google Calendar until I showed up in my first job. Someone tells me, I am gonna put some time on your calendar. And I think: Oh, I guess I have a calendar. That's not obvious if you don't come from, frankly, a certain class. But all of those things are important; if you don't intro somebody the right way to a VC, they know you're a dunce, automatically. There's nobody that sits you down and says hey, you're gonna say thank you so-and-so, moving you to BCC. It's not hard, but nobody ever tells you that anywhere.
Preliminary Conclusions:
Focusing on soft-skills/cultural capital/the unwritten codex of the management world or however you want to call all of this, might be a promising approach to work towards creating equal opportunities for all (no matter if this is on a college level or when it comes to making highly influential gremia such as e.g. boards of directors more diverse).
There is lots of room for services in this area. Especially as social norms are different from country-to-country, there is opportunity for multiple players. Or to say it in the words of Megan O'Connor:

One thing that you see getting unbundled quite a bit now is this how do you enter the real world. What historically within a college or a university was the idea of a guidance counsellor or career services as you said. That is like there is full producs, stand alone products you can go through. You know there is one that is called 'Real World Playbook' and lots of other ones that essentially are finishing schools for the real world for everything from how do you interview, how do you network, how do you get your LinkedIn profile up and running to how do you go about making smart decisions in order to enter the work force.

You and I already know this one but it's good to get a reminder from time to time: Don't ever assume that anything that comes naturally to you must also be easy to achieve for others.
(3) We'll see a polarization of higher education into science focused and industry focused.
Traditionally universities have been aiming to set their students up for both, a potential career in research or an industry job. However, as knowledge in all sciences accumulates, research requires increasing domain knowledge and thus specialisation whereas many jobs on the labour market demand a rather diverse and inter-disciplinary skillset. As universities benefit from a long research history and bundled domain knowledge, they have a big advantage in training the scientists of tomorrow. However, when it comes to preparing students for industry jobs, different forms of education that are faster in adapting to the labour market's changing needs have a competitive edge. Examples like Udemy, Coursera (which did an IPO beginning of the week), Lambda School, Achieve Partners or OnDeck are showing the way.
Preliminary conclusions:
Taking into account the current unemployment crisis due to COVID-19, it should be a great time to start something in the area of vocational training. Ryan Craig and Daniel Pianko from Achieve Parnters also pointed this out in a recent interview:11

What do you think the average biology major makes in U.S. after graduating from college? It's $30,000, now think about this. This is a person who got to college, went through probably one of the hardest programs but what where they trained for? They were trained to go to medical school. And if they don't get a job in medical school, are they gonna work in a lab? A are never gonna get a job at Google, I mean unless they went to Harvard - , Google is not hiring bio majors from San Diego State University. That is wasted human captial and that person, we are not gonna find that person through any of the existing recruiting channels (…) That person needs to be explained 'Hey we are going to use a lot of technology to source you, to get you through an online program and we are going to screen you for things like grit, capacity and if you get through our screen you are guaranteed a job at the end. And you are not guaranteed a job making like $50,000 or $60,000, so more than you earned before but in two or three years you will be making $150,000. And the ability to do that at scale is probably the single most important thing from a social mobility perspective we can do as a country.

With more non-traditional education companies/institutions flooding into this space, credentials will not anymore have the form of a sheet of paper aka. a certificate but alternatives such as online portfolios, referrals will take over. Megan O'Connor again:

If Github and Behance are credentials 1.0, my dream for the future is peer to peer credentials where if you told me 'Hey here are the best people I have ever worked with, just put them in any sort of broad business hire and they'd absolutely crush it' I would value that more so than a Harvard degree. And yet its inconvenient for me to get this list from you, it's you plus like 50 others who I trust, who I worked with and that could be my next 100 hires. So that is just missing and I feel like it will become legible at some point.

It's really cool that we have a government-backed vocational training system here in Austria.
If you liked what you read, you might also enjoy my bi-weekly newsletter that delivers inspiration from all over the internet to the notoriously curious.
If you didn't like what you read, consider shooting me an email to bring on the discussion.
Footnotes
A curated list of example motivators & my thoughts how these relate to the values listed in the text:

All your friends go to university -> desire to attain/retain a specific status in a peer group -> credential
Your parents expect you to go to university -> desire to obtain a certain status in your family -> credential
Enjoying yourself at student parties -> meeting fellow students that party with you -> people
Land a 'good' job later on -> getting the knowledge required for such jobs & meeting people that can make it easier for you to get such a job -> knowledge & people
Getting promoted in your current job -> gaining additional skills & being able to proof this to your current boss -> knowledge & credential
Being a student is cool & exciting -> obtaining the student status & enjoying yourself -> credential & people
Learn about the world -> get more knowledge about a particular topic & meet people that broaden your worldview -> knowledge & people

Of course this is still a huge simplification of the issue at hand (as any kind of model is, per definition). Nevertheless, I think trying to decipher the value of education from this very angle gives rise to some interesting insights although some other relevant parts are certainly left out in the favour of simplicity.
This is also the meaning of the word 'university' - its derived from the Latin 'universitas magistrorum et scholarium', meaning 'a community of teachers and scholars'. Encyclopedia Britannica.
In this article on disrupting education, Jake Singer makes a bit of a different classification of the 'jobs to get done' of a university education (he only focuses on business schools though). He does not name 'Knowledge & Skills' as one of the values but instead lists 'Job Opportunities'. While both terms ultimately refer to a similar concept, I would argue that job opportunities are actually a lower level construct , sth. that is derived from the 3 values I listed. Aka. If you have a good network, a lot of knowledge and a credential this creates job opportunities. At least in my mind this type of classification makes more sense, which is why I have chosen to go with it here. Otherwise, I very much agree with what he writes there and can highly recommend the article.
I am not from the U.S. and have never studied there. I am just a person from Austria that was baffled by the recent numbers of Ivy League applicants and wanted to dive deeper.
Cornell, Princeton and Yale have not published their application numbers for the upcoming winter term yet and are thus not included in this graphic.
Amelie Nierenberg, New York Times: Interest Surges in Top Colleges, While Struggling Ones Scrape for Applicants.
Erik Torenberg (2021) / Venture Stories: Unbundling Higher Education with Megan'O Connor.
Austen Allred, CEO & Founder of Lambda School as cited in Garcia-Martinez (2021): The American-Dream-as-a-Service
Thomson, (2014). Field in M. Grenfell ed. (2014). Pierre Bourdieu. Key Concepts. as read in Kotinsky (2020): Pierre Bourdieu on education: Habitus, capital, and field. Reproduction in the practice of education
Erik Torenberg (2021) / Venture Stories: Transforming Higher Education with Ryan Craig and Daniel Pianko.